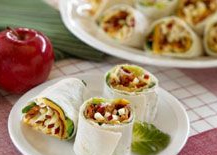 Bacon, Lettuce, Apple Bites
Bacon, Lettuce, Apple Bites
Ingredients:
1 lb. bacon
2 heads bibb lettuce
1/2 lb. sliced sharp cheddar cheese
1 Pink Lady® apple, cut julienne
1 tsp. lemon juice
4 Tbsp. mayonnaise
4 10-inch flour tortillas
Toss apples with lemon juice.  Cook bacon in large skillet till crisp. Drain on paper towel. Spread 1 Tbsp. mayonnaise on each tortilla.  Divide cheddar cheese, lettuce, bacon and apples between each tortilla. Roll tightly.  Wrap in plastic wrap and refrigerate 30 minutes.  Slice into ½" rounds and serve.