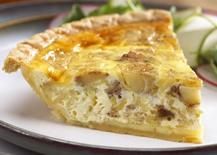 Cheesy Apple Quiche
Cheesy Apple Quiche
Ingredients:
1 – 10″ pie shell
1 3/4 cups shredded swiss cheese
2 cups peeled, cubed tart Michigan Jonamac apples
1/4 cup minced shallots
2 Tbsp. butter
1 1/2 tsp. flour
1/2 tsp. cinnamon
1/4 tsp.  nutmeg
4 eggs, beaten
2 cups half & half
1 tsp. salt
Preheat oven to 350 degrees.
Prepare pie shell and press into pie plate; sprinkle ½ of swiss cheese in pie shell and bake 10 minutes on lowest rack of oven; cool.
In medium skillet, sauté apples and shallots in butter until soft (about 8-10 minutes).  Stir in flour, cinnamon and nutmeg.
Spread apple mixture evenly in pie shell; sprinkle with remaining cheese.  In separate glass bowl, whisk together eggs, half & half and salt.  Place pie plate on lowest rack in oven; pour egg mixture over apples and cheese.
Bake until firm and knife comes out clean (about 60 minutes).
Remove from oven and let stand for 10 minutes.  Serve warm.