Caramel Apples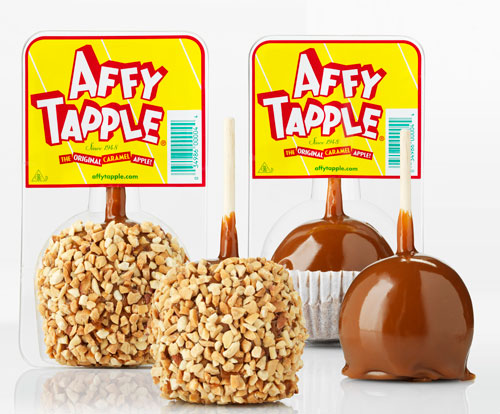 Background
Riveridge has a professional affiliation with Affy Tapple, the most familiar brand caramel apples for over 50 years.
Affy Tapple selected Riveridge as a partner in marketing, distribution and sourcing fresh apples because we share a vision of impeccable business ethics and customer-focused service.
We both understand that caramel apples are more than just another snack item.  There's a sense of nostalgia and romance, when customers bite into a crisp apple covered with gooey caramel and crunchy peanuts.
That superior eating quality begins with Riveridge-supplied apples, harvested at the height of taste and crunch.
Riveridge is also well-suited to get large volumes of Affy Tapple products to market in a short time period, through logistical support to the entire Affy Tapple sales region from the East Coast to Colorado.
Food Safety
To ensure that Affy Tapple apples are as good for you as they are good tasting, all products are produced in an SQF Level 2 facility maintaining strict food safety programs and approved HAACP programs.  All products are Kosher certified.
Variety
Riveridge supplies apples and marketing support for traditional caramel apples as well as Affy Tapple's new gourmet items.  Affy Tapple now offers gourmet double chocolate crunch and gourmet milk chocolate almond apples.  In all, there are 19 taste and pack options.
Food Service
Riveridge works with Affy Tapple to supply food service products for commissaries including bulk pack caramel apples; food service packs for schools including vendor machine packs; and food service products for restaurants including gourmet caramel apples with up-scale dips and coatings.
Merchandising
We can help supply merchandising concepts and sales plan-o-grams for stores, supermarkets, restaurants and just about any retail tie-in. We can also help design sidewalk sales, plan special promotions and events, fall festivals, holiday promotions, BOGOs, contests and rebate programs.
Challenge us with your needs or ideas and we will find a way to make it happen.
Product Specs
You'll find each of the Affy Tapple packs to be unique, eye-catching and designed to attract impulse and indulgence sales. Innovative new products and packaging work together to generate sales and drive the category.  Here are the 5 different products we carry.