Michigan Asparagus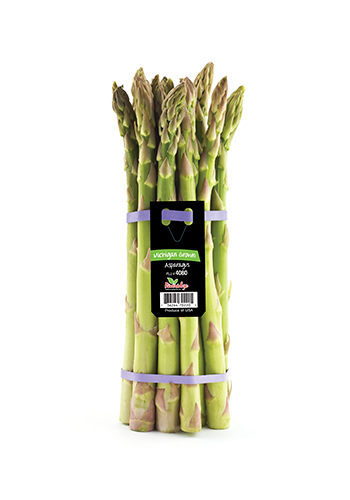 With a short window of just six to seven weeks, asparagus is perhaps the most anticipated vegetable of spring in Michigan. Michigan Asparagus is unique in that it has a flavor all its own and is incredibly versatile in the kitchen – it can be boiled, blanched, baked, grilled, steamed, served plain, seasoned or coated in rich hollandaise. Nearly everyone has a favorite way to prepare the vegetable that has more than 80 nutrients, including folate, vitamin K, B vitamins, iron, and zinc, and no cholesterol or fat. There are just 40 calories in one cup.
Michigan is the second largest producer of asparagus in the United States, growing about 20 million pounds annually. The bulk of which is grown on 120 family farms on the west and southwest sides of Michigan – in proximity to Lake Michigan and the benefits it provides.
The Michigan Difference
Michigan grown asparagus is unique in that it is the only region that solely harvests by hand snapping. When you hand snap the asparagus at harvest it breaks at its best snapping point. This means you don't have to cut the woody, fibrous end before cooking! This makes each spear wholly edible.
Michigan asparagus has excellent flavor and a long shelf-life thanks to the unique climate and soil conditions in West Michigan. Being near Lake Michigan, the soil is dominated by sandy loam which provides ideal structure and fertility to fuel asparagus growth and flavor.
Packaging and Availability
Like any produce, but especially the first commercial crop of the season in Michigan, it is dependent on Mother Nature. Historically, we can harvest as soon as the last week of April or as late as the second week of May. From there, we are in supply for six to seven weeks.
Spears come banded or loose in 11lb (108 cartons/pallet) and 28lb cases (42 cartons/pallet). All sizes are available – small, standard, large and extra-large. Riveridge offers an exclusive 12 oz. microwavable bag. The bag offers an alternative for today's time-starved, but whole-food conscious consumers. Simply snip the corner of the bag and microwave for 2-3 ½ minutes for tender, ready-to-eat spears.
Why Riveridge?
Being fully-integrated in apple growing, packing and marketing, Riveridge puts an emphasis on food safety and quality. We have four dedicated food safety and QA managers who are in the fields, at receiving stations and packing facilities as the season ramps up until it winds down. These front-of-the-line employees help growers with audits and ensure compliance. All growers and packing sheds are Primus GFSI certified for food safety.
Additionally, we work closely with the Michigan Asparagus Board to stay current on growing conditions and trends as well as help craft marketing outreach to help drive consumers to the store by educating them on the Michigan-grown asparagus difference.
Riveridge's Commitment to Michigan Asparagus
National media outreach around the great taste and hand-snapped benefit of Michigan asparagus
Social media campaign on Facebook, Twitter, and Instagram, with ad buys to targeted demographics
Assets (recipes, images, stats, facts, etc.) available for your marketing and social media channels
See the link below for a one-pager on Riveridge's offering in Michigan asparagus: