MAEAP Verification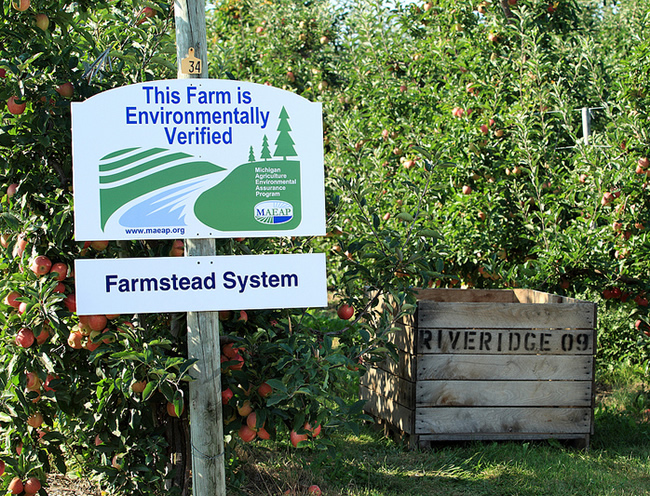 Riveridge Land Company along with other Riveridge grower-partners, have been early adopters of the Michigan Agriculture Environmental Assurance Program, often called MAEAP. MAEAP is a voluntary environmental stewardship program that allows all types of farmers including apple growers, to partner with the State of Michigan to verify their good growing practices. The MAEAP utilizes state agriculture workers to verify that farmers are making environmentally-sustainable business decisions and are engaging in complete recordkeeping. It is a months-long process that requires the farm to be totally transparent with state inspectors, and to be willing to make changes to bring the farm into compliance with best practices.
While MAEAP does not go beyond what state and federal laws mandate, it does require an apple grower to open his or her records and practices for inspection. MAEAP requirements are the result of a collaborative, years-long effort of farmers, Michigan Department of Agriculture & Rural Development, Michigan Farm Bureau, commodity organizations, conservation districts, conservation groups, and state and federal agencies. Upon verification, orchards may purchase the MAEAP sign to post on the farm. The sign tells neighbors and communities that the grower's orchards have the state's official seal of approval.
MAEAP verifications have been ongoing since 2002, and in 2011 became Michigan law. By mid-2013, about 1,600 of Michigan's estimated 40,000 farms had completed the process, according to MDARD statistics. "At Riveridge Land Company, MAEAP is a visible sign of our longstanding commitment to environmentally-responsible agriculture," says Don Armock, Riveridge partner.