Growing Apples on V-trellis: The Details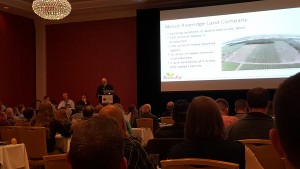 Justin Finkler, Riveridge Landing Company's Farm Manager, presented at the 2016 International Fruit Tree Association (IFTA) conference in Grand Rapids, Michigan recently. Attendees then had the opportunity to come out to our Grant farm location to see V-trellis and vertical trellis systems in person.
Below is a quick synopsis on the details of V-trellis apple growing. Please reach out to us if you're interested in additional information.
Why V-trellis?
Goals
Yields of 20 to 30 percent more than vertical system
90 to 100 bins per acre
Highest possible pack-out, grow high quality fruit
The system lends itself well to work platforms
Easier to manage Pruning, Thinning
Diagram of a tree in full production
70 apples
72/80 size
1,800 bushels/acre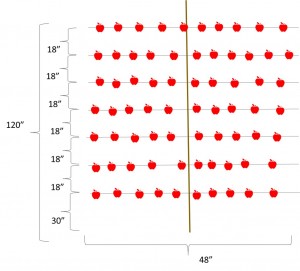 Cost of Planting V-trellis vs Vertical trellis
Cost of Planting 10 x 3 ( 1452 trees/acre) vertical trellis
4 wire
Wood post at 25 feet
Drip irrigation
$19,000.00 per acre not including land cost
Cost of Planting 12 x 2 ( 1815 trees/acre)
   V- Trellis
7 wire per side
Drip irrigation and micro sprinklers for frost protection
Steel orchard stakes at 32 feet with steel end post
Ground Prep / Pre-Planting
Soil Sampling grid samples
Ground is tiled every 30' to 40' 4-inch corrugated black tile
Deep ground ripping
Root removal
Cover crop
Planting Techniques
Planting with a two-row planter
GPS
Auto Steer
Planting 15,000 to 20,000 trees/day
Training Technique
Tape leader to string as it grows
Tie Down branches to each wire

First with green tape (temporary)
Then with black electrical tape (stronger, more permanent)
Eliminate unwanted limbs or stub back
Graphs courtesy of ANR.MSU