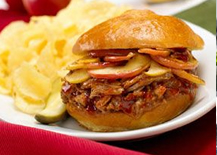 Apple and Pulled Pork BBQ Sandwiches
Apple and Pulled Pork BBQ Sandwiches
Ingredients:
4 cups cooked, shredded pork butt roast
1 cup smoky or mesquite bottled BBQ sauce
1/3 cup apple juice concentrate
1 Tbsp. butter
2 medium Michigan Idared apples, cored and sliced
½ tsp. cinnamon-sugar
6 crusty sandwich rolls, split
Combine pork, barbeque sauce and apple juice concentrate in large saucepan.  Heat over medium heat until heated through, stirring frequently.
Meanwhile, melt butter in medium skillet over medium heat.  Add sliced apples and cinnamon-sugar.  Cook and stir 5 to 6 minutes or until apples are tender.
Divide pork mixture evenly over bottom half of rolls.  Spoon cooked apples over pork.  Cover with tops of rolls.