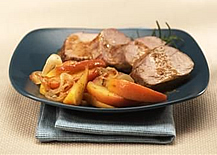 Roasted Pork with Mustard-Apple Relish
Roasted Pork with Mustard-Apple Relish
Ingredients:
1/4 cup olive oil, divided
2 pork tenderloins, about 1 lb. each
2 Tbsp. dried rosemary leaves
4 cups Michigan McIntosh apples, unpeeled and thinly sliced
2 cups onions, thinly sliced
2 cups Michigan apple juice
2 Tbsp. coarse ground Dijon-style mustard
1 Tbsp. granulated sugar
Preheat oven to 350 degrees.  Brush tenderloins with 2 Tbsp. of the oil.  Cook in large skillet on medium-high heat until browned on all sides.  Remove from heat; cool slightly.  Rub tenderloins with rosemary leaves.  Place on flat rack in baking pan.  Bake for 40 to 50 minutes or until internal temperature of each tenderloin reaches 160 degrees.
Meanwhile, heat remaining 2 Tbsp. oil in large skillet on medium-high heat.  Cook and stir apples and onions until tender-crisp, about 5 minutes.  Stir in apple juice.  Cook until liquid is reduced by half, about 10 minutes, stirring occasionally.  Stir in mustard and sugar.
Slice tenderloin and serve with apple-onion mixture.