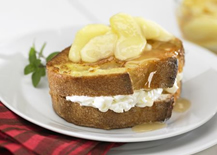 Baked Apple-Stuffed French Toast
Baked Apple-Stuffed French Toast
Filling Ingredients:
1 pkg. (8 oz.) cream cheese, softened
1 Tbsp. apple juice concentrate
1 1/2 cups of Michigan Jonagold apples, peeled, cored and diced
1 Tbsp. granulated sugar
1/2 tsp. lemon juice
Filling Directions:
Toss apples with lemon juice.  In a medium bowl, stir cream cheese until smooth.  Stir in apple juice.  Fold in apple dices.  Set aside.
Bread/Batter Ingredients:
1 loaf (16 oz.) Italian bread (about 4" wide)
4 large eggs
½ cup milk
2 tsp. vanilla extract
Bread/Batter Directions:
Diagonally cut a small slice off both ends of bread and discard.  Continue slicing bread diagonally into slices about 1 to 1-1/2" thick.  Holding the knife horizontal to the counter, cut each slice almost in half, leaving one side attached and making a pocket.  Divide filling among the pockets, pressing closed around the edges.  Place on rimmed baking sheet.
In a shallow bowl, whisk together the eggs, milk and vanilla.  Slowly pour over bread, turning to coat completely.  Set aside.
Calvados Sauce Ingredients:
3 cups Michigan Jonagold apples, sliced medium thick
3 Tbsp. apple juice concentrate
1/3 cup granulated sugar
2/3 cup apple juice
1 Tbsp. cornstarch
1/4 cup + 2 Tbsp. Calvados or other apple liqueur, divided
1 tsp. lemon juice
Sauce Directions:
Toss apple slices with lemon juice.  In a medium saucepan off the heat, stir together apples, sugar, cornstarch, apple juice concentrate, apple juice and Calvados/apple liqueur until cornstarch is dissolved.  Cook over moderately low heat, stirring often, until mixture comes to a boil, turns clear and thickens.  Remove from heat and cool slightly.  Add remaining 2 Tbsp. of liqueur.
Baking Directions:
Preheat oven to 450 degrees.  Generously grease baking sheet.  Place bread on baking sheet about 2" apart.  bake for 6-9 minutes or until bottoms are golden.  Turn and bake another 6-9 minutes or until both sides are golden brown.
Frying Directions:
Alternatively, this dish may be fried rather than baked.  Melt margarine or butter in frying pan and brown both sides of each bread pocket.  Transfer to plates when golden brown.
Serving Directions:
Top pockets with Calvados sauce.  Pass remainder sauce around for more!