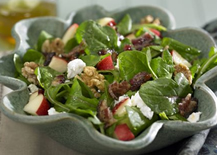 Apple Salad with Candied Bacon and Goat Cheese
Apple Salad with Candied Bacon and Goat Cheese
Salad Ingredients:
6 slices bacon, diced
1 Tbsp. maple syrup
1 Tbsp. brown sugar
3 Michigan Honeycrisp apples, cut into 1" dices
1/2 cup walnut halves, toasted
4 oz. goat cheese, cubed
3 cups baby arugula
Dressing Ingredients:
2 Tbsp. pure maple syrup
1/4 cup cider vinegar
1/4 cup extra virgin olive oil
Fry bacon until crisp, then drain off most of the fat.  Add maple syrup and brown sugar to pan, cook and stir until bacon is well coated with melted sugar.  Remove from pan onto Silpat or parchment paper.
Combine remaining salad ingredients in a large bowl.
Whisk together dressing ingredients and toss with salad.  Garnish with bacon.