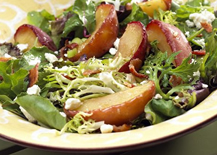 Roasted Rome and Feta Salad Recipe
Salad Ingredients:
4 firm Michigan Rome apples, peeled and cut into sixths
2 Tbsp. brown sugar
8 cups mixed greens
4 Tbsp. green onions, thinly sliced
2 slices bacon, cooked and crumbled
1/2 cup crumbled feta cheese
Dressing Ingredients:
2 tsp. whole grain mustard
1 Tbsp. honey
1 Tbsp. fresh lemon juice
2 Tbsp. apple cider vinegar
1/4 cup extra virgin olive oil
Preheat oven to 425 degrees. Spray a large baking sheet with non-stick cooking spray. In a large bowl, toss apples with brown sugar. Spread in a single layer on prepared sheet. Bake for 15-20 minutes until apples begin to brown but are still firm enough to pick up with a fork.  Remove and cool.
Meanwhile, in a large bowl, toss greens and green onions together. Chill for 30 minutes. Shake dressing ingredients together in a small jar. Set aside.  Just before serving, drizzle salad with dressing. Toss.  Divide into four salad bowls. Divide bacon and cheese onto each. Arrange 6 apple slices on each. Serve immediately.