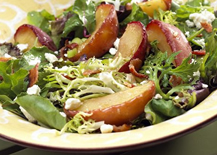 Tropical Twist Apple-Coconut Crumb Pie
Tropical Twist Apple-Coconut Crumb Pie
Crust Ingredients:
2 cups all-purpose flour
1 Tbsp. granulated sugar
1/2 tsp. salt
2/3 cup shortening
1 Tbsp. lemon juice, freshly squeezed
6-7 Tbsp. ice water
Filling Ingredients:
1-1/4 cup granulated sugar
1/2 cup all-purpose flour
1-1/4 cup sour cream
1 jumbo egg
1/2 cup pineapple, crushed in heavy syrup
2 Tbsp. lemon juice, freshly squeezed
6-7 cups Michigan Jonathan apples, peeled and thinly-sliced
Crumb Topping Ingredients:
1/2 cup golden light brown sugar, packed
1/2 cup flour
1/2 cup old-fashioned oats
1/2 cup flaked coconut
1/2  stick unsalted butter, chilled and cut into small pieces
Directions for Crust:
Place flour, sugar and salt in a bowl and mix well.  Add shortening and toss with a fork until pea-sized pieces are formed.  Place in refrigerator for 15-20 minutes.  Remove and add water-lemon juice mixture on Tbsp. at a time until ball forms.  Remove from bowl, shape into disk, wrap and refrigerate for at least 1 hour.  Remove and roll out on floured surface.  Transfer to pie dish; flute.
Directions for Filling and Pie:
Preheat oven to 425 degrees.  Combine sugar, flour, sour cream and egg; mix well.  Add crushed pineapple, lemon juice and Michigan Jonathan apples.  Stir until apples are well coated.  Let stand 15 minutes.  Pour into prepared crust.  Lower oven temperature to 375 and bake pie for 30 minutes.  While pie is baking prepare crumb topping by mixing all ingredients together.  Remove pie from oven, top with crumb mixture and return to oven for another 30 minutes or until apples test done when pierced.
Enjoy the Tropical Twist Apple-Coconut Crumb Pie!